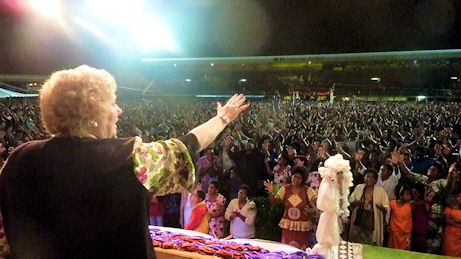 Evangelist Deborah Gliebe at TFL Stadium, Suva, Fiji, with 20,000 People!
News from Fiji
Tuesday 9/04/10
Bula Vinaka! (Big Hello!)...or Hello from Fiji!
The Gliebe's left for Fiji, from Honolulu, and arrived 8 hours later. On their heels was the Burchams who left Portland (after a 2 hour delay) for L.A. and then later, on to Fiji. The rest of their trip was uneventful but very long, 29 hours straight travel time but they had some rest on the flight.
Tom and Deborah arrived at their condo styled lodging, on Denarau Island, just outside of the city of Nadi, at 11:30 PM. It didn't take long for God to show up! Our porter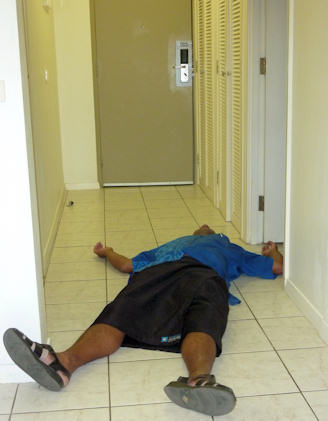 unloaded their luggage, requested prayer and was immediately slain in the Spirit, twice, in the hall way. Now remember, it was 11:30PM, at night! By midnight the Gliebe's had ministered to 6 people in their room! Healings and deliverance flowed. It was like birds hurrying to eat bread...that was during the first hour of their first day (35 Minutes) and then they went to bed.
Around 5:30AM the Burcham's taxi arrived from the airport and they slipped immediately into the second bedroom and went to sleep.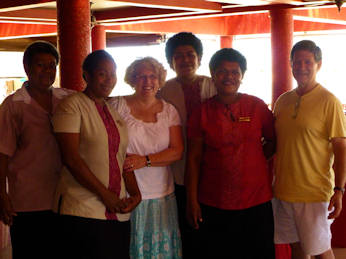 After their brief rest, we all arose and went straight to the mission field.....the adjacent hotel's restaurant for breakfast about 10:30AM. Yes, a mission field. It was the Sheraton open-air restaurant where God had another Devine appointment set up. Breakfast ended at 11:00AM and the customers quickly began leaving. But, we had a Devine appointment with Marioni. She in turn brought more than 20 restaurant workers to our table that lined up for prayer! Five fell out under the power of the Holy Spirit. One with cataracts in her left eye was healed! Another with an injured ankle was healed and at least five more made first time commitments to Christ!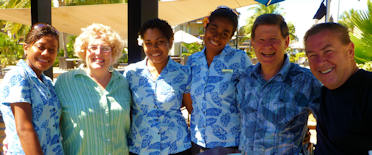 Every where we went, thereafter, the Spirit of God brought people up to us asking for prayer, healing or salvation! Some just ended up in front of us and being full of the Holy Spirit and excitement we prayed for them. Virtually, all were touched, set free or healed! As evangelist, we were all under an open heaven, continuously, and full of praise to the Lord!
As some of you know, we are totally relying on God to make all of connections here in Fiji. Only our verbal invitation to attend the All Nations Christian Fellowship Conference, (ANCF) in Suva, (capitol city) Fiji, was offered. Nothing else was booked in advance so we had no way of knowing how God would orchestrate this mission trip but Tom and Deborah knew that God had prompted them to go to Fiji and that He would be waiting. With all of the early success since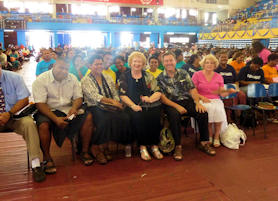 arriving, we departed, on day three, on a four hour bus ride from Nadi to Suva with great expectations of what the Holy Spirit would open up to us at the ANCF Conference where 20,000 were expected to attend. On opening day nothing was offer to the team nor on day two, which was disappointing. We were committed to return to Nadi if no ministry door opened but we were pregnant with expectation! It happened when we arrived a little late to the conference and sat in the back, behind about 3,000+ attending the day time teaching meetings in the Vodafone Arena. It was only a few minutes and a Fijian man motioned to follow him and he led us up half way to the front and got us chairs. It was only a few minutes later that Pastor Jekope, that we had met in Nadi three y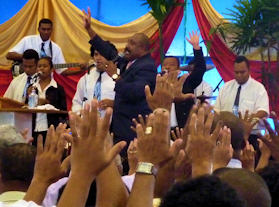 ears earlier, saw us and motioned for us to come to the front. The very front row where room was made for all four of us. We heard the end of a great teaching about (conference theme)"God, my Source of Power" and then Reverend Epeli, the apostle of the ANCF, came up on to the platform to end the session with prayer. When he came down he went directly to the FireGate team and greeted them. He then spoke to Tom and Deborah inviting them to share at the English speaking service the following morning. Of course they excepted and were very excited. They knew it would be exceptional because God had sent them to Fiji!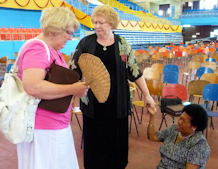 That was the turning point for the team. Immediately new connections with leadership began to occur. Sister Esther Deborah, a head intercessor, that had been praying for three years that Tom and Deborah would come back to Fiji and bring the fire of the Holy Spirit once again, spotted them when she came up to the altar at the end of the service. She ended up on the floor (literally) right next to Rebecca as her spirit leaped at the reunion. Deborah Esther began opening doors to churches, even other countries, including Australia as well as with high-ranking officials of Fiji.
We stayed with Arieta in her home in Suva. She was a sister of Save', a Fijian friend in Sacramento, California. Our Fijian hostess invited her relatives over to her home to
have us minister to them. She moved all of the furniture aside and rolled out a traditional mat where all ten of us could sit "village" fashion. Deborah and Terry had words of knowledge for many of Arieta's family. Terry was led by the Spirit to pray for Una, Arieta's older brother, who had a back injury that he had kept secret for over 15 years. Through a Word of Knowledge and prayer, God instantly healed him! He was excited! Praise the Lord!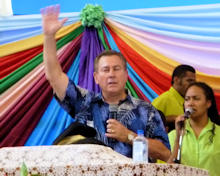 Of course, the next day, at the appointed time, Tom and Deborah arrived at the Vodafone Arena and went up to the platform before about 3,000 Fijians. Tom began first and delivered a message from the Fathers heart. Even though it is very rare for a women to be a speaker in Fiji, Rev. Epeli had invited both so Tom stepped down within a few minutes and asked Deborah to come and speak to the people. It was awesome!! The atmosphere suddenly became charged and went from 0 to a 100 in about 65 seconds! It was dynamic as she lead the people back
into worship and praise. The worship team was right on queue and provided a background for the Glory to come down. After three songs miracles began to happen. Deborah had a word for people with hip and back problems to come forward. The Fijian rush began. Many were touched in those first minutes. At one point the alter was jammed full of Fijians and Deborah went down amongst them. A great number were touched and slain in the Spirit. After a time she came back up and had another Word of Knowledge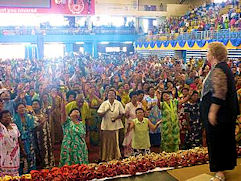 regarding different needs and brought a few up on the platform. They literally crumpled in the anointing of the Spirit much like a Kathryn Kullman meeting except faster. Then more and more came up but the anointing increased and they went down faster and faster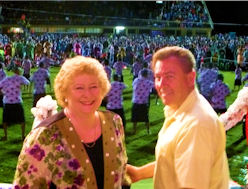 without even being touched by her hand. She only waved! The amazing demonstration of the Holy Ghost was caught on video. It became the talk of the conference and they ran out of videos to sell. It was truly a demonstration of the conference as the theme was, "God, My Source of Power". We were able to make a video of the Gliebe's guest speaking in the Votophone Arena. All the video links will be found on #2 Fiji NewsLetter so click on the following link to see the videos, at: http://firegate.org/NewLetter-Fiji.2.htm

After the wonderful supernatural teaching meeting that night, the leadership honored Tom & Deborah and the team, Terry & Rebecca Burcham, by inviting them to sit on the platform with their leaders before 20,000 people. Their hearts were truely touched but that was only the beginning of many more events!
We still do not know where God is leading us – doesn't matter since He is on the job and opening doors before them. God is orchestrating everything before them and always will, if we let Him!
Of course there is much more that could be said but it will have to wait for our next new release as we are trying to more frequently send out newsletters while in Fiji. A great and effective door has opened up to them. They believe there will be more revival in the cities of Nadi and the Latuko besides the hundreds of one-on-one ministry event they have participated. (More on those later)
Our finances are limited as we came without all that was needed. We are trusting God to work through His people. For information on how to send funds go to: Donate To FireGate And don't forget to continually pray for us as there is much witchcraft and darkness even in these wonderful people of the islands.

Thank you in advance for your continuing prayers and blessings.

Your brothers & sisters in Christ,
Tom & Deborah Gliebe and team,
Terry & Rebecca Burcham

FireGate Ministries International,
PO Box 6088, Apache Junction, AZ 85178 U.S.A.
www.FireGate.org